Steam details Family Sharing feature
One of the major complaints with Steam is that if you want to lend your PC to someone so they can play your library, you risk having your saves and game progress overridden :(.  Steam is hoping to address that with a new feature via it's Beta client, Steam Family Sharing.
Steam Family Sharing will enable users to share their entire library of games with up to 10 other Steam members.  Users will be able to send requests to access a  friend's library, similar to how we authorize our computers via Steam Guard.  Once authorized, you will be able to access to all of the games in that friend's library, complete with the ability to earn their own Steam achievements and save their own progress to the Steam Cloud.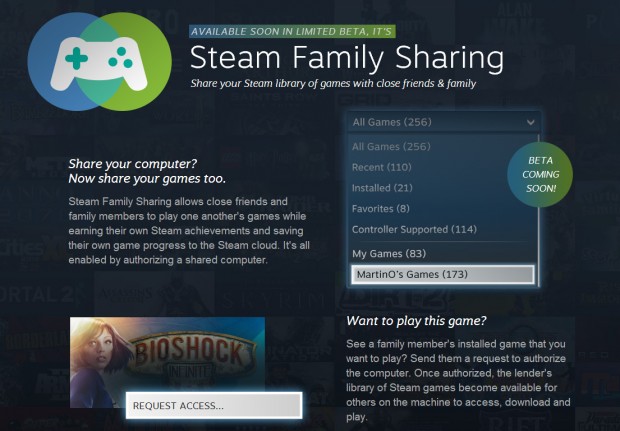 Shared libraries may only be accessed by one user at a time (so no actual game sharing, it's more of lending).  If multiple users try to access a certain game, the owner of the library will be given priority to access it and other users will be granted a few minutes to either buy the game or quit out.
Steam Family Sharing will enter a limited beta next week; members can express interest in the beta by joining the Family Sharing group.
source Steam
Tags:
Family Sharing
,
PC Games
,
Steam
---