Steam for Linux Beta Now Available
The Beta trial for the Linux-client of Steam has officially begun.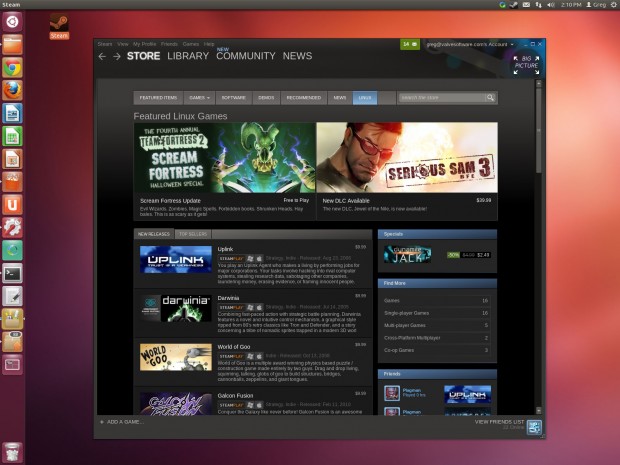 "This is a huge milestone in the development of PC gaming,"  says Gabe Newell, Valve President and co-founder. "Steam users have been asking us to support gaming on Linux. We're happy to bring rich forms of entertainment and our community of users to this open, customer-friendly platform."
Currently only available for  Ubuntu 12.04, the Linux variant of the Steam client currently hosts Team Fortress 2, a free-to-play first person shooter by Valve along side approximately two dozen additional Steam titles.  While short on games, the beta client seems to be a new testing bet for Steam's Big Picture mode which allows for use and compatibility of Steam-tied games with a TV and controller.
The full list of games available on the Linux client are as follows:
Team Fortress 2
Serious Sam 3: BFE
Solar  2
Space Pirates and Zombies
Amnesia
Trine 2
The Book of Unwritten Tales
Unity of Command: Stalingrad Campaign
Frozen Synapse
World of Goo
Super Brothers: Sword and Sworcery
Dynamite Jack
Waveform
Darwinia
Dungeons of Dredmor
Aquaria
Cubemen
Solar 2
Steel Storm: Burning Retribution
Cogs
And Yet it Moves
Uplink
eversion
Galcon Fusion
Coinciding with this release, Nvidia has also announced renewed support for Linux as it's latest GPU drivers are now available, promising better Linux performance for daily use and of course gaming.  The new GeForce R310 drivers available for download via the GeForce website and Nvidia claims that they are designed to give  customers the best possible Linux-based PC gaming experience
The official press release for the Linux client for Steam is available below:
And here's Nvidia's official press release for it's support for Linux and gaming:
Linux
,
Nvidia
,
PC Games
,
Steam
---