6.20 / 6.35 / 6.39 / 6.60 PRO-C1 LCFW released
Whoops, I've lost track of the PSP CFW scene for a few months and I didn't get the memo that PRO-C has already been released by the PRO CFW team.  Ah well, better late than never :/
Pro-C is compatible with the following firmwares 6.20, 6.35, 6.39, 6.60 (please check the supported list for more information). This release includes fixes for common bugs in prior PRO CFW releases including the CIPL bug that bricked PSPs when installing the permapatch.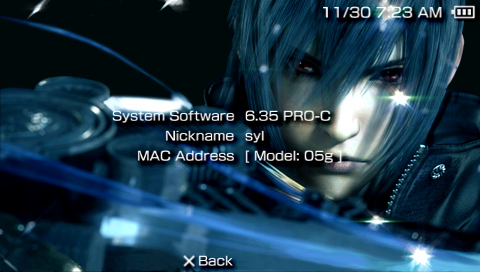 Changelog for PRO-C1
Fixed several memory unlocking problems like the VSH exit crash (broken homescreen).
Added high memory forcing support for SEN NPDRM EBOOTs (most useful in combination with Prometheus Online).
Relinked the PSP online manual to the PRO CFW server.

This release is compatible with Prometheus Online, a 2g+ PSP online gaming service.

Updated the PARAM.SFO files to show proper CFW version.
Supported Kernel and Hardware Revisions:
Download links:
How To install 6.20 / 6.35 / 6.39 / 6.60 PRO-C1
Upgrade to the required firmware:
Download the installer package for your target OFW
Copy PROUpdater and FastRecovery folders to PSP/GAME
Run Proupdater and follow on screen prompts
Tags:
6.20 Pro
,
6.20 Pro-C1
,
6.35 Pro
,
6.35 Pro-C1
,
6.39 Pro
,
6.39 Pro-C1
,
6.60 Pro
,
6.60 Pro-C1
,
Homebrew
,
Homebrew Loader
,
Playstation Portable
,
PSP PRO CFW
---